Art women for women
Curated by Antonio Manfredi
December the 12th 2014 | March the 8th 2015
Opening on December the 12th 2014 at 7 pm
CAM | Casoria Contemporary Art Museum
Department for Culture of the City of Casoria
On December the 12th at 7 pm CAM museum inaugurates the exhibition I am woman, curated by Antonio Manfredi, with paintings, photographs, installations, videos and performances made by women for women.
In opposition to what Guerilla girls have stated protesting as women artists are seldom present in museums, CAM has, among its permanent collection artists, a high femminine percentage. Also because of this, Casoria museum will is to pay homage with the exhibition I am woman to the women world, a complex, rich world not apart from news issues and tragedies though aiming to overcome gender division. More than 80 worldwide women artists have been invitated to utter their identity, surprising for the variety of portraits they have realized involving a number of themes sadly connected to women. Thus, hard and screamed out, or introspective and delicate works are born, like Laura Niola (Italy) and Miriam Wuttke (Germany) performances taking place on the exhibition opening night. Through a hard language, impressive images women artists contribute to female struggle as art can be a gun to become aware. From pedophilia to women condition in muslim countries, from non reciprocated love to the abused body, women life seems to be marked since birth. So women, princesses in their dreams, turn into deformed faces because of domestic violence, withheald, concealed and too often turning to femenecide, meanwhile the ones taking heart and denouncing since tired to be victim become an isolated voice, almost an exception in a sexist world. CAM contributes to fight against denoucing omission and launches a campaign on Facebook and a debate with the representatives of associations and groups caring about women abuse in Campania region. "Let's break the silence" is the Casoria museum campaign, started on the day against women abuse. Private messages being sent to CAM (CAM|Casoria Contemporary Art Museum) FB page denouncing discrimination and abuse on women will be shown on the opening
day of the exhibition I am woman as samples of denouncing. The meeting Violence on women_ a concrete help is taking place on the opening day of the exhibition I am woman, on December the 12th at 6 pm at CAM, with the participation of Luisa Marro, Department of Culture of the City of Casoria, Maria Fusco, from Arcidonna Napoli Onlus managing the antiviolence center " A.U.R.O.R.A." of Napoli, Barbara Abazia, from the volounteer association Telefono Rosa of Napoli, a deputy from Sportello Lilith San Sebastiano al Vesuvio, Maurizio Lillo, from La casa di Marinella onlus Acerra, Donatella Tacconelli, Repubblica, introducing.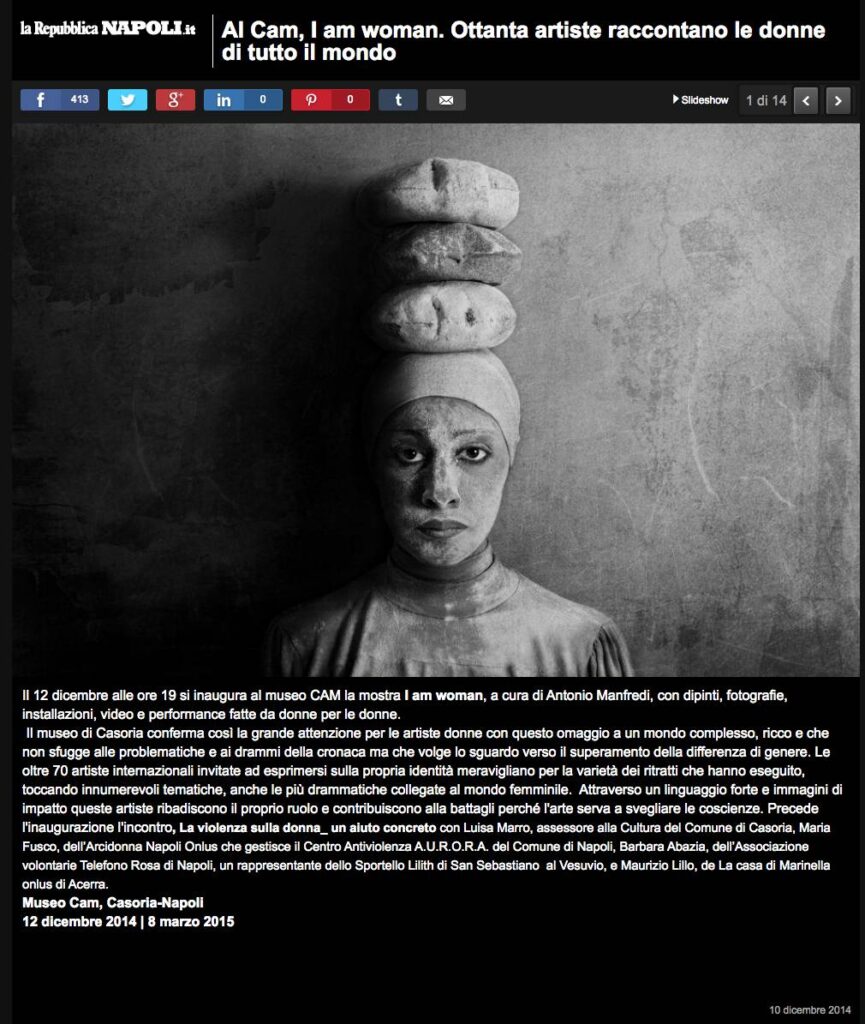 ARTISTS
Miriam Wuttke GERMANY (Live performance)
Laura Niola ITALY (Live performance)
Alma Idrizi MACEDONIA
Elpida Hadzi-Vasileva MACEDONIA
Klitsa Antoniou CIPRUS
Veronika Bayer AUSTRIA
Claudia Feyerl AUSTRIA
Melita Couta CIPRUS
Emma Wood UK
Lone Seeberg DANMARK
Astrid Stofhas GERMANY
Eva Vevere LITUANIA
Petra Buchegger AUSTRIA
Maria Dimaki GREECE
Fajr Soliman EGYPT
Eva Petric SLOVENIA/AUSTRIA
Larissa Tomassetti AUSTRIA
Nina Rike Springer AUSTRIA
Nora Iniesta ARGENTINA
Barbara La Ragione ITALY
Raffaella Budson Italy
Paula Sunday ITALY
Rokhshad Nourdeh IRAN
Evelin Stermiz AUSTRIA
Penka Mincheva BULGARIA
Galina Yotova BULGARIA
Annalisa Cimmino ITALY
Angham & Azhar Sarhi YEMEN
Amira Al-Sharif YEMEN
Pamela Toll US
Razan Saeed EGYPT
Klementina Golija SLOVENIA
Barbara Ardau ITALY
Nina Nikolova BULGARIA
Pilar du Breuil FRANCE
Cassia Aresta BRAZIL
Helenita Peruzzo BRAZIL
Rosa Grizzo BRAZIL
Vera Pamplona BRAZIL
Heloísa Ruiz Pereira BRAZIL
Femke Van Gent WALES
Dusa Jesih SLOVENIA
Severine Bourguignon FRANCE
Michela Margherita Sarti ITALY/TUNISIA
Mary Ogembo KENYA
Amina Mania EGYPT
Yasmine Adel EGYPT
Renate Christin GERMANY
Carmen Carmona Movalatex SPAIN
Maya Pacifico ITALY
Dijana Bogdanovska MACEDONIA
Nina Lassila
Emy Mina KOSOVO
Helga Gasser AUSTRIA
Maria Laura Matthey ITALY in garage
Paz Die Dean SPAIN
Qing Yue CHINA
Ana Frangovska MACEDONIA
Wanda Zyborska WALES
Barbara Fragogna ITALY/GERMANY
Rachida Amara TUNISIA
Natalie Silva US/GERMANY
Chiara Mazzocchi ITALY/GERMANY
Rabiaa Echahed MAROCCO
Nada Thakeb EGYPT
Gloria Zoitl AUSTRIA
Hanaa Mohamed EGYPT
Kholoud Ashraf EGYPT
Anamaria Avram ROMANIA
Sahar Atabani SUDAN
Celia Washington UK
Danijela Novakovic
BOSNIA
Ajili Houda TUNISIA
Jona Dividi ALBANIA
Ghadeer Hafez ARABIA SAUDITA
Špela Trobec SLOVENIA
Natasa Milovancev MACEDONIA
Gayle Tustin US
Vahida Hasanaga Nimanbegu MONTENEGRO
Nadia Zouari TUNISIA
Ishraf Bou SabbehcompteHalal TUNISIA
Jana Maneva Cuposka MACEDONIA
Eli Acheson-Almassry WALES
Evelin Stermitz AUSTRIA
Lina Mowafy EGYPT
Norhan Alaa EGYPT
Yasmeen El Meleegy EGYPT
Ane Lan NORVEGIA
Ina Loitzl AUSTRALIA
Lina Persson SVEZIA
Sonya Rademeyer SUD AFRICA
Sofia V. Bustorff PORTOGALLO
Irene C. Coremberg ARGENTINA
Yuri Kawamura GIAPPONE
Elvira Sanchez Lopez SPAGNA
Murka Maarit ESTONIA
Rona Rangsch GERMANIA
Charlotte Cornaton