Rent a Room in CAM Museum
Call for participation in CAM Factory.
CAM Factory is the new exhibition room of the CAM Museum for solo and group exhibitions directly managed by the artists, art curators, gallerists or Cultural Association. Opportunity to exhibit up to 30 works circa in 120 square meters circa, 50 ml circa (the first of 53 m2 for the exhibition and the second of 60 m2 for the video projection of your projects or for the display of other art works).
A week of exhibition (on Thursday preparation of the art works, on Friday evening the inauguration, removal of works on Thursday evening or the following Friday morning), technical support for the setting art works, lighting, welcoming staff and specialized employees during the whole period of the exhibition. Professional projector, DVD and sound system. Advertising of the exhibition through our mail list of 30,000 contacts, Blog and Social Networks (FB, Instagram, Twitter).
For more info, dates and costs call + 39 3332972239 or email: artmanfredi@hotmail.com

Vincenzo Petrone
AD PERSONAM
opening Friday 22 October 2021
22/28 October 2021

Giorgio Scotti
La metamorfosi dell'abbandono
opening Friday 4 January 2019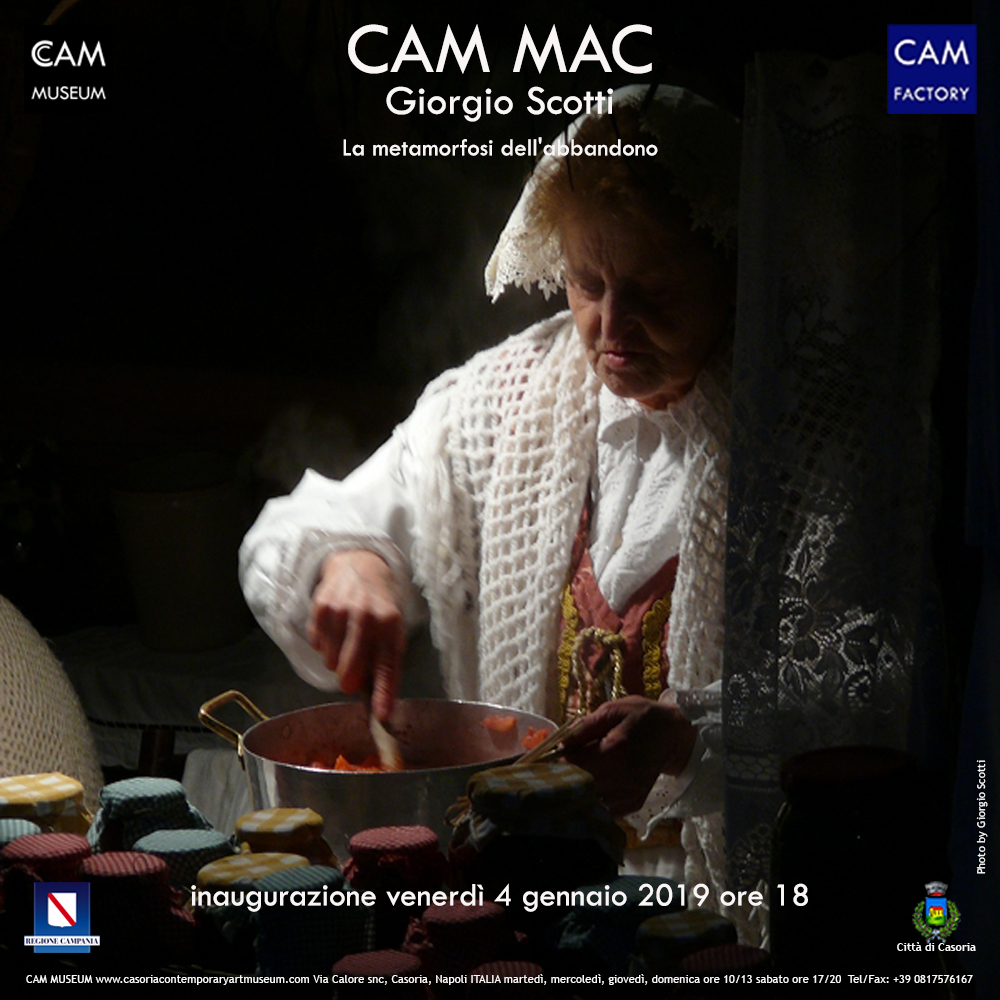 KAIROS
Vincenzo Amistà, Vincenzo De Stefano, Daniela Del Mondo
Periferie metropolitane
opening vFriday 28 December 2018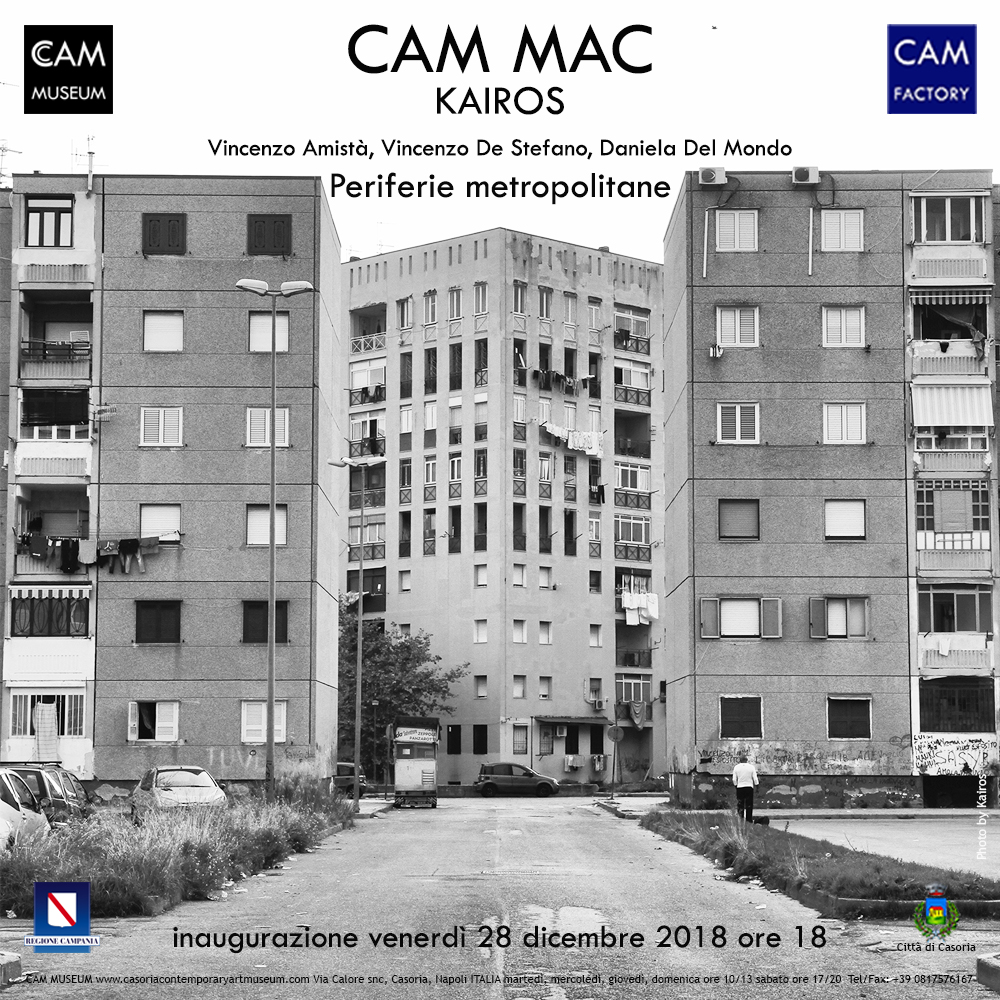 Luca Petrucci
Paesaggi Inurbani
opening 21 December 2018

Iole Capasso
Frammenti
opening Friday 14 December 2018

NetCAM
32 photographs from CAM Museum permanent collection
opening 7 December 2018
Angham & Azhar Sarhi YEMEN, Kholoud Ashraf EGYPT, Marian Delyth WALES (UK), Aphrodite Desiree Navab IRAN, Qing Yue CHINA, Oksana Shatalova KAZAKHSTAN , Samar Ghattas PALESTINE, Paula Sunday ITALY, Liu Yang CHINA, Alma Idrizi MACEDONIA , Irena Frantal CROATIA, Sylvia Njenga KENYA, Monica Biancardi ITALY, Laser Liz Magic USA, Helga Gasser AUSTRIA, Angela Barretta ITALY , Zeljka Gradzki CROATIA, Elif Ayiter TURKEY, Giorgio de Pinto ITALY, Artur Holling GERMANY, Alla Girik KAZAKHSTAN , Fabio Donato ITALY , Huang Yan CHINA , Luciano Ferrara ITALY, Filippos Tsitsopoulus GREECE, Cang Xin CHINA, Antonio Manfredi ITALY , Giuseppe De Marco ITALY, Norbert Attard MALTA, Fulvio Di Napoli ITALY , Alexander Rodin BELARUS Ph. Petrov Ahner GERMANY, Conny Liotti ITALY Ph. Adelaide Laluna ITALY

Art and artists in the European Union
Art and artists in the European Union.
The borders of Art
Conference, debate and exhibition
5 October 2018 Conference
5 October / 5 November 2018 Exhibition of international artists
Dimovska Sonja_Macedonia, Kastrati Driton_Kosovo, Ahmeti Verona_Kosovo, Imeri Teuta_Macedonia, Rama Suad_Kosovo, Bekjiri Nehat_Macedonia, Gashi Abetare_Kosovo, Fidan Bejtullahu_Kosovo, Simonida Filipova Kitanovska_Macedonia, Sylejmani Pranvera_Kosovo, Ukikj Burim_Macedonia, Petrushevska Iliana_Macedonia, Topalli Shabani Lebibe_Kosovo, Kadrija Ardin_Macedonia, Djepaxhija Beskida_Albania, Zendeli Verim_Macedonia, Katerina Ristovska_Macedonia, Shaqiri Hyrie_Serbia
Lida Sherafarmand
Florescencism
Solo exhibition in CAM Factory
13 July al 13 October 2018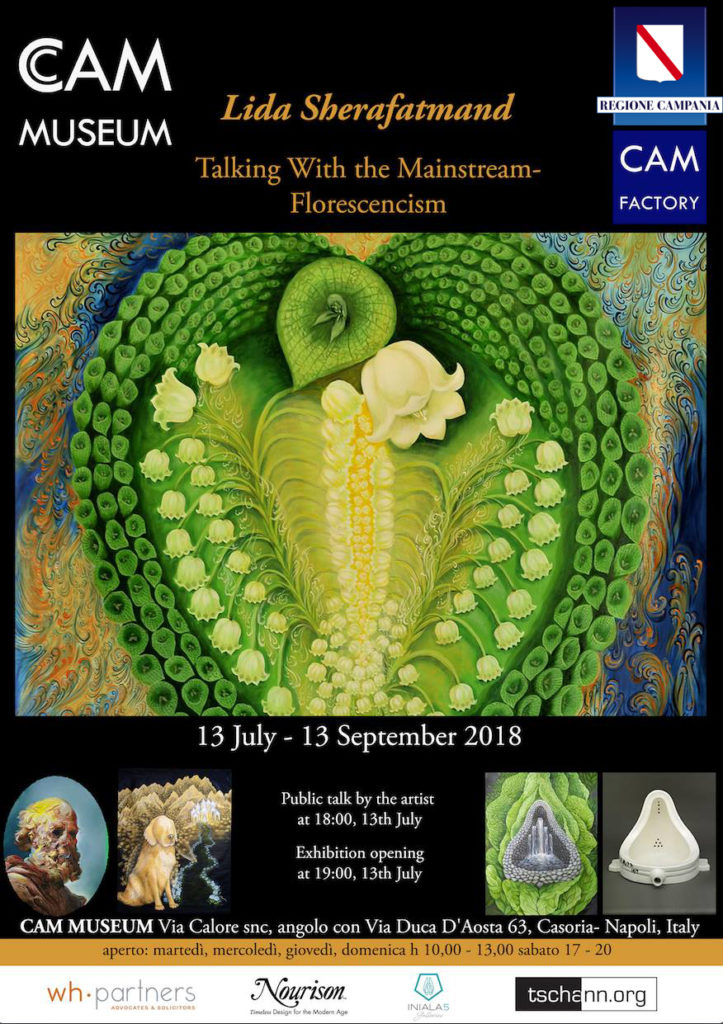 Rossana Bucci
"Progetto Penelope"
29 June/8 July 2018
Opening 29 June 2019

Şaheser Birinci
"Artist of painting sexual climax"
curated by Kani Kaya, Turkey.
Solo exhibition in CAM Factory
18/25 May 2018

Napoletana
Turkish art in Naples
18 November 2017/20 January 2018


Design for Social inclusion as an art

University of Design "Luigi Vanvitelli"
17/23 July 2017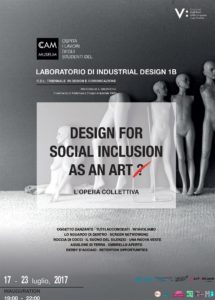 Berta Jayo

Wonders
14/21 January 2017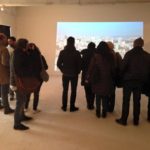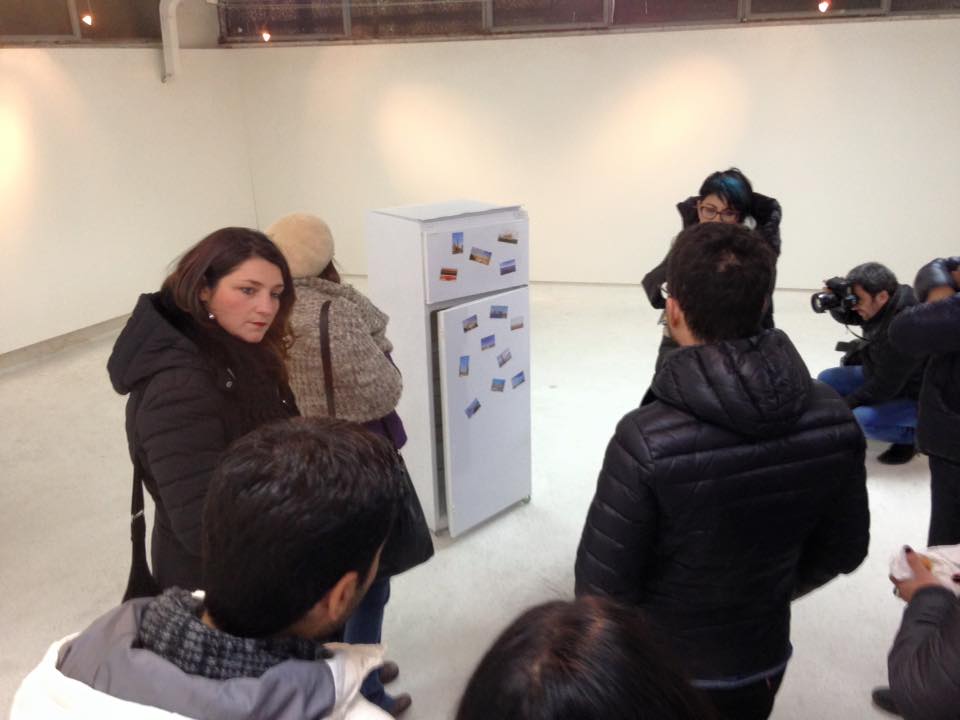 Simultaneus worldwide exhibition in:
CAM Contemporary Art Museum. Casoria, Naples ITALY
Casas del Águila y La Parra. Santillana del Mar. Cantabria SPAIN
EFTI Centro Internacional de Fotografía y Cine. Madrid SPAIN
Arts Connection Foundation. Miami USA
Alonso Vidal Gallery. Barcelona SPAIN
This work in which the main simbols of the world disappear reflects a fascinating absence that make us think about the importance of the creation and its vital influence on ours society.

Mario Santangelo
Universi
27 December 2016/6 January 2017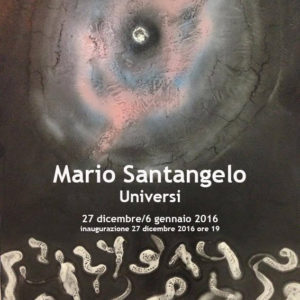 Giovanni Ruggiero
Memento
10/16 December 2016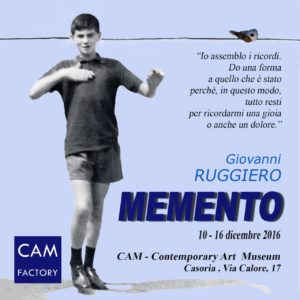 Lello Bavenni
Resistenza ad oltranza
3/9 December 2016

Giovanni Mangiacapra
Nuovi Equi.Libri
22/28 October 2016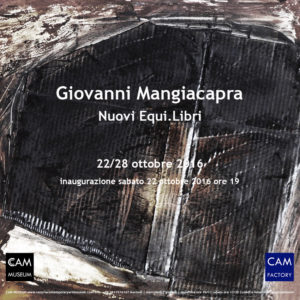 Gennaro Mele
I colori dell'Anima
8/13 October 2016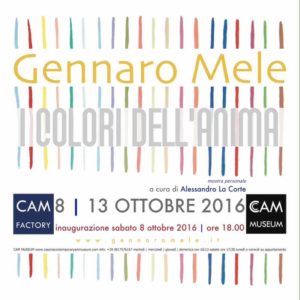 Bruno Montagna
Migrantes, tercera dimension
1/7 October 2016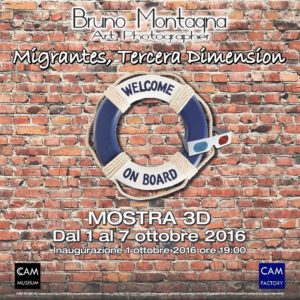 Patrizia Gargiulo
Le stanze
10/16 September 2016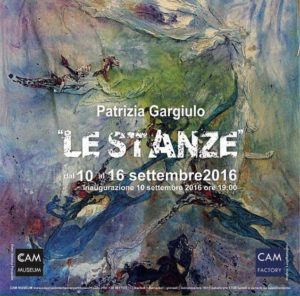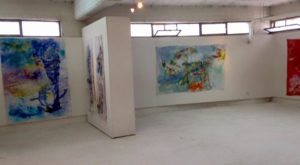 Pasquale Sorrentino
dalla Forma al colore
9/18 July 2016

Antonio Raucci
Prosegue Architetture/Architetture
18/24 June 2016

Dell'Aversana & Varavallo
Remember
14/20 May 2016

Joseph Mastused
Epifania
7/13 May 2016