Cultural Art Movement
curated by Antonio Manfredi
Take part to the selection of the election symbol, program, slogan and advert of the Movement of the world of Art and Culture VOTE ART_ Cultural Art Movement.
A symbol (graphic design or digital), a program (140 spaces max), a slogan (40 spaces max) and, on discretion of the participants, a video (30 sec. max, to post on Youtube), can be posted either on the Facebook page http://www.facebook.com/voteartcammuseum, created for the occasion, or on Twitter @MuseoCAMCasoria or sent by e-mail at vota.arte@yahoo.com .
The whole will be loaded on the Facebook page http://www.facebook.com/voteartcammuseum and, all those logos and videos reaching more than 50 "I like it", will be shown in CAM halls on occasion of the Italian political Election Days, next 24 and 25 of February 2013.
Artists, designers, admen, video makers, poets, writers and everybody, whatever age, Italians and non-Italians are invited to participate to overcome the reality of fake and paradoxical symbols and election parties presented for the political elections.
The ironical event launched by CAM, following CAM Art War, on the one hand mocks a political class overcoming even the most extreme artistic expressions and on the other launches a clear message to the world of culture: an invitation to a reflection involving an active commitment on an Institutional level.
NEWS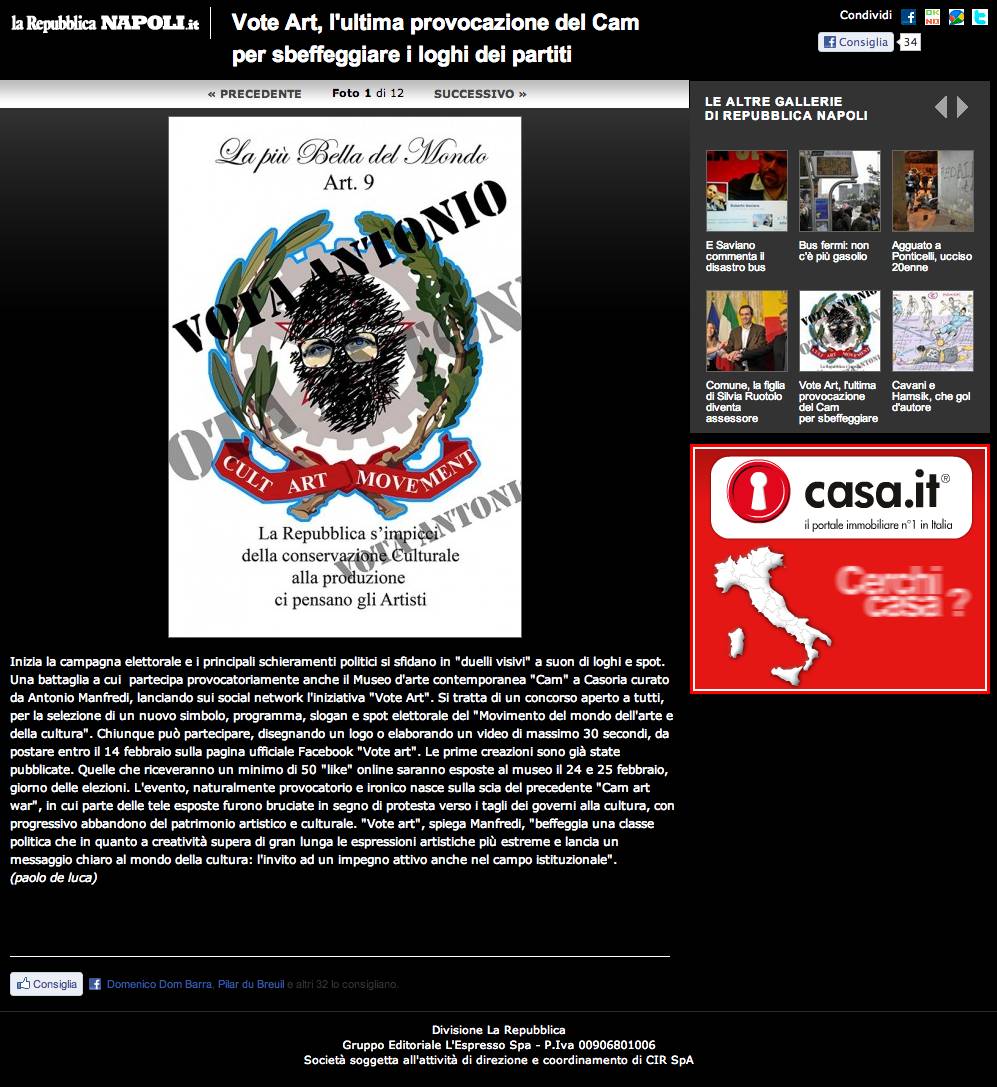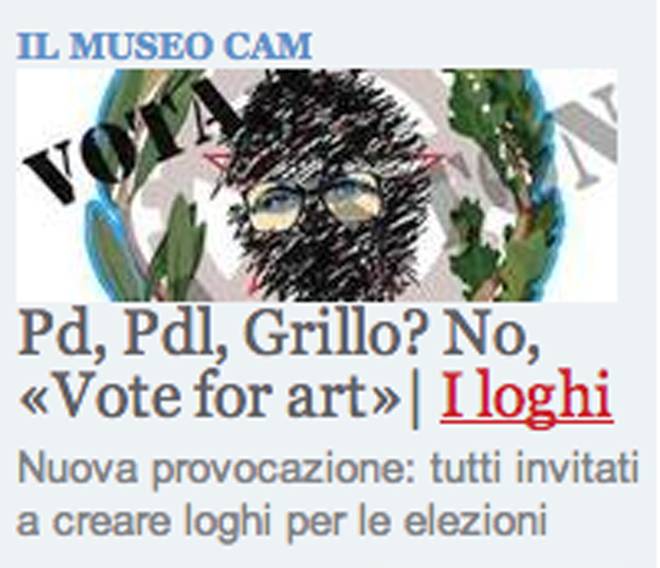 VIDEOS:
Video by Mimmo di Caterino_VOTE ART

Video by Scarlet Lovejoy/ Marco Iannaccone_VOTE ART

Video by Antonio Raia e Gabriella Siciliano_VOTE ART

Video by Gabriella Siciliano_VOTE ART

Video by Margherita Fascione_VOTE ART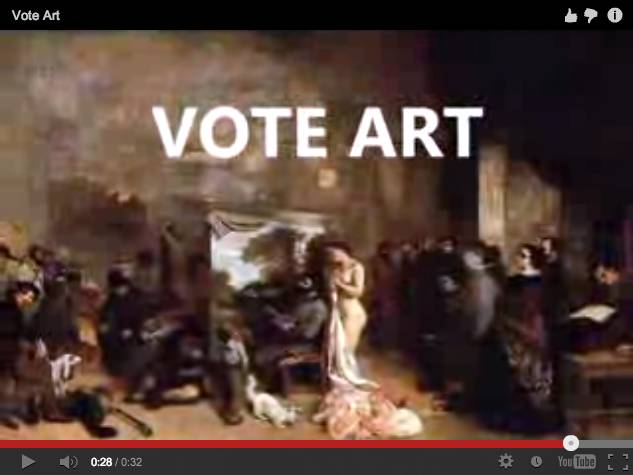 ARTISTS:
Jeremy Blank_Australia
Gennaro Cilento_Italia
Gianluca Iovine_Italia
Ardau & Di Caterino/Tavor Art Mobil_Italia
Marzia Vetrano_Italia
Tony Stefanucci_Italia
Michele Spina_Italia
Pilar du Breuil_Francia
Salvatore Graf_Italia
Disegno perfetto_Italia
Rosa Panaro_Italia
Luigi Ambrosio_Italia
Maurizio De Fazio_Italia
Dom Barra_Italia
Barbara Ardau_Italia
DDT ART_Italia
Peppe Esposito_Italia
Luna Hal_Italia
Angelo Riviello_Italia
Marco Coraggio_Italia
Endre Kis_Ungheria
Robert Gyuris_Ungheria
Fausto Rullo_Italia
Orodè Deoro_Italia
Raffaele Boemio_Italia
Treddi Man_Italia
Scarlet Lovejoy/Marco Iannaccone_Italia
Sara Sarno_Italia
Anna Pozzuoli_Italia
Maria Rosaria Cozza_Italia
Gretel Fehr_Italia
Martin Reiter_Germania
Tacheles Berlin Archiv_Germania
Christian Catera_Italia
Brlek Alen_Croazia
Pio Rega_Italia
Mauro Rea e Antonio Picariello_Italia
Envi En Vg Voglio_Italia
Alessandro Della Pietra_Italia
Maria Racana_Italia
Giovanbattista De Angelis_Italia
Helga Gasser_Austria
Olly Key Key (Olga Mangiacapra)_Italia
Nicola Masuottolo_Italia
Filippos Tsitsopoulos_Grecia/Spagna
Raffaella Formenti_Italia
Renato Bozzaotra_Italia
Alfonso Caliendo_Italia
Anna Magliocchino_Italia
Mario Macca_Italia
Antonello Picciano_Italia
Marko Vojnic Gin_Croazia
Angela Caporaso_Italia
Giuseppe Tuzzi_Italia
Irene Russo_Italia
Helga Gasser Salzburg_Austria
Maria Pia de Santis_Italia
William G Gusella_Italia
Andrea Petrone_Italia
Napola Kazaum_Italia
Andrea Gruppuso_Italia
Alfonso Caccavale_Italia
Gruppo Sinestetico_Italia
Christa Niestrath_Germania
Juan Giordano_Argentina
Franjo Matanović_Croazia
Stefania Chiaravalle_Italia
Mauro Kronstadiano Fiore_Italia
Giuliano Chierchio_Italia
Alfonso Mangone_Italia
Assunta Improta_Italia
Gabriella Siciliano_Italia
Michele Ciardiello_Italia
Mena Pezzullo_Italia
Moni Vibescu Varriale_Italia/Romania
Antonio Raia e Gabriella Siciliano_Italia
Giorgio Scotti_Italia
Claudia Del Giudice_Italia
Rayk Amelang_Germania
Margherita Andreoli_Italia
Ermelinda Ponticiello_Italia
Barbara Agreste_Italia
Andras Pinczehelyi_Ungheria
Patty De Simone_Italia
Anamaria Avram_Romania
Jelena Micic_Serbia
Tommaso Arcella_Italia
Tiziana del Giudice_Italia
Mihail Zhelyazkov_Bulgaria
Sergio Gargiulo & Bruno Lania_Italia
Rocco Sciaudone_Italia
Pasquale Dell'Aversana_Italia
Chris Herdel_Repubblica Ceca
Bazsi Bubreg_Ungheria
Giuseppe Piscopo_Italia
Gerardo Marzullo_Italia
Murolo, Picone, Parolisi_Italia
Tigernest di Juliane Biasi Hendel_Italia
Rosa Biagi_Italia
Gabriele Castaldo_Italia
Antonio Serrapica_Italia